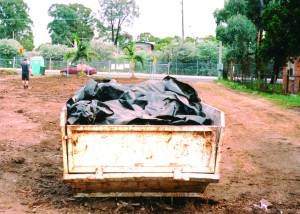 If you use the appropriate safety precautions, you are permitted to remove a maximum of 10 square metres of bonded asbestos in NSW. However, if removing more than 10 square metres, you MUST either hire a qualified asbestos removalist or obtain a SafeWork NSW bonded asbestos removal licence which requires you to attend an appropriate training course run by TAFE or a registered training organisation. Any loose or friable asbestos must be removed by an qualified asbestos removalist and cannot be removed by the homeowner.
Find Out More About Disposing of
Asbestos in NSW
Asbestos Disposal
Asbestos waste can only be disposed of at specific landfills located in various regions of in NSW. To locate your closest asbestos disposal facility visit the Asbestos Safety & Eradication Agency's disposal database
To arrange to dispose of asbestos, you must first contact your local council to locate your nearest lawful waste landfill site
Ensure asbestos waste has been wetted, wrapped in 200um thick plastic, and sealed with tape before it is transported to a landfill site that may lawfully receive the waste.
It must be clearly labelled as "asbestos waste"
It must be transported in a covered, leak-proof vehicle
It is wise to keep copies of receipts from landfills where asbestos was taken as councils or the Environment Protection Authority (EPA) may require you to produce these receipts as proof of proper disposal
Important Safety Facts To Know When Working With Asbestos
The EPA has produced a brochure called "Safely disposing of asbestos waste from your home". This contains information for home renovators and builders on the safe handling, storage, transport and disposal of asbestos waste and can be found on their website.
Remember: If the asbestos is in powder form or can be crumbled, pulverised or reduced to powder by hand pressure when dry, it must be removed by an asbestos removal contractor with a friable asbestos licence.
Share this information on: