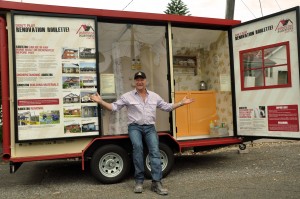 'Betty' – The Asbestos Education House is the first of her kind in Australia and the world, and is a community engagement and experiential awareness initiative of Insight Communications for the Asbestos Education Committee.
Betty is a purpose built, mobile model home designed to demonstrate where asbestos might be found in and around any Australian home built or renovated before 1990. Her exterior resembles a typical fibro home but when opened up, she has extensive audio and visual information including a bathroom, kitchen, living room, man shed/garage and a dog house.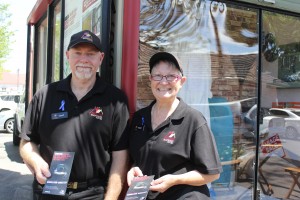 Betty's mission is to educate all Australians about the dangers of asbestos so they think smart, think safe, think asbestosawareness.com.au, because it's not worth the risk!
Her curators and chauffeurs, Geoff and Karen Wicks, are fully trained volunteers who enable her to educate the community as well as tend to her maintenance and upkeep. Geoff is a retired avionics engineer and avid DIYer!
From 2012 to 2017, Betty visited hundreds of communities around Sydney and regularly toured throughout NSW, primarily exhibiting at community events, council activities and DIY or renovation expos to educate Australians about asbestos dangers. Betty has also toured more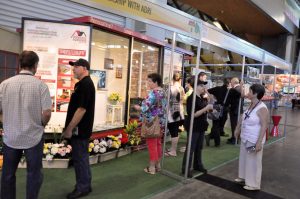 than 65,000 kilometres throughout every state and territory within Australia except WA.
Following Betty's successful tour of Tasmania in 2017, Betty has been off the road since 2018 due to funding cuts. To help save lives, it is hoped that funding will soon be provided to ensure Betty and her dedicated crew can be back on the road spreading the word in the community about the dangers of asbestos and how to manage it safely.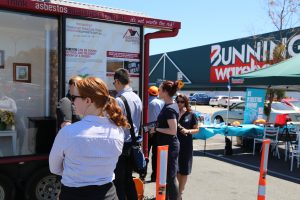 Between November 2012 and December 2017 Betty has:
Had 244 public appearances
Held 203 Media Call events
Been displayed at 51 Bunnings Stores in NSW, Victoria, QLD, SA and NT
Visited various community events including:

The Sydney Royal Easter Show in 2013 and 2015
The Sydney Home Show
ADFA Memorial Day 2013, 2014
AGQUIP
AUSGRID & Endeavour Energy
The Ballina Home Show
Coffs Harbour Waste Conference
Georges River Council's Oatley Village Festival
Hills Shire Council's Creswood Fair
Home and Garden Show Bowral
Lithgow Council Annual Safety Day 2014
The Living Room
Mona Vale Markets
NAIDOC Week Events 2013, 2014, 2016, 2017
Parramatta Council's Australia Day Celebrations at Parramatta Park
The Royal Agricultural Society's Camden Show, Parks Show and Condobolin Show
Strathfield Spring Fair
Tocal Field Days
Follow Betty on Facebook
To partner with Asbestos Awareness and become a sponsor of Betty and the vehicle that tows her, please contact us to request a Partnership Prospectus.
Betty Physical Stats:
Weight: 1.42 Tonne
Towbar Weight: 100kg
Body Length With Draw Bar: 5.5m Long
Body Length – Just House: 3.6m Long
Width: 2.4m Wide
Height: 2.9m Tall
Power: 240v – also has her own generator
Share this information on: