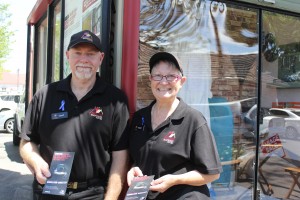 Betty is a popular girl! We receive multiple requests each week from councils, community groups and organisations to have her visit their events or communities around NSW – she also receives requests from other states! You can often find Betty at a Bunnings Warehouse!
Due to the nature of Betty, she has a number of special requirements and is unfortunately unable to attend all events because of her size, shape and the practicality of moving her. While we will make every effort to accommodate requests, we cannot guarantee Betty will be able to attend every event request or be available for multiple days. Each request is assessed on a case-by-case basis and against a set of criteria which includes the location, duration, and potential number of visitor to an event plus community need.
Please note that Betty's appearances and tours have currently ceased due to a lack of funding and the COVID-19 pandemic. If you are interested in having Betty visit your community or attend your event please contact us using the below form and we will be in touch shortly.
We are currently seeking funding to help further Betty's vital work in the prevention of asbestos-related diseases.
To partner with Asbestos Awareness and become a sponsor of Betty and the vehicle that tows her, please contact us to request a Partnership Prospectus.
Betty Booking Request Form
Share this information on: