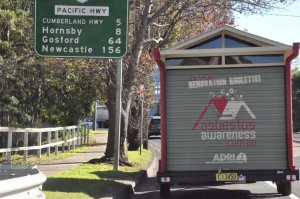 Please note that Betty's appearances and tours have currently ceased due to a lack of funding and the COVID-19 pandemic.
We are currently seeking funding to help further Betty's vital work in the prevention of asbestos-related diseases.
To partner with Asbestos Awareness and become a sponsor of Betty and the vehicle that tows her, please contact us to request a Partnership Prospectus.
For any enquiries about having Betty visit your community at a later date please visit the Betty Booking Page
Share this information on: