Cherie Barber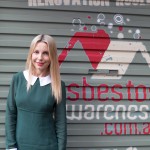 Cherie Barber is widely known as Australia's Renovation Queen and the nation's leading authority on profitable home renovating. A professional renovator with more than 21 years' experience in the business, Cherie founded Renovating For Profit in 2009. Cherie is widely respected for her expertise, knowledge and skills in property renovations, and with her own unique, down-to-earth natural style, Cherie is extensively featured in the Australian media across all television networks, radio programs, print and online media. Cherie is passionate about raising community awareness about the dangers of asbestos when renovating and is proud to be an ambassador for the national Asbestos Awareness campaign.
"Australians have a love affair with renovating. But many do it in a gunho approach, demolishing walls and the like, in Rambo renovator style, oblivious to the fact that asbestos could be present. I've seen it first hand – inexperienced renovators and homeowners unknowingly exposing themselves and their children to asbestos fibres. And our Aussie attitude of "she'll be right", won't be right, when it comes to asbestos. I personally lost my grandfather to asbestos poisoning and I can tell you, it's a horrible way to go. It's my role as an ambassador to help spread the word, that through proper handling and awareness, no Australian in the future, needs to fall victim to this disease. We can put a stop to it. It's an absolute honour to be involved in such an important cause".
Scott Cam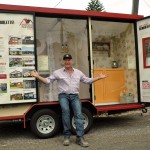 Scott Cam another of Australia's most loved television personalities and host of The Block said, "You can't muck about with asbestos. It's dangerous stuff. And because most people can't tell if a material is made of asbestos just by looking at it, before starting a DIY job or a renovation, we want them to visit asbestosawareness.com.au so they have a better understanding of how to go about things to protect themselves and their families."
Barry Du Bois

Barry Du Bois is an Interior Designer and Master Builder with over 30 years experience. As one of Australia's best-loved TV personalities, Barry possesses the unique ability to communicate his professional knowledge on design, architecture, renovations and DIY to homeowners who are outside the building industry.
His skill set encompasses everything in the home, from the kitchen bench to the garage, and he has a passion for educating and empowering people to transform their living spaces into something truly special.
Before appearing on TV, Barry had a hugely successful building career. Starting out as an apprentice carpenter, he soon progressed to owning and running his own building company before graduating onto renovating multi-million dollar waterfront homes.
John Jarratt

John Jarratt, star of film and television and was well known for his DIY appearances on Better Homes and Gardens, is a passionate supporter of the campaign saying, "Asbestos is one product that may look harmless but it's not. Last year I lost one of my best mates, actor Harold Hopkins to mesothelioma from being exposed to asbestos fibres on building sites. Having the opportunity to warn people about the dangers is very personal and important to me. I'm delighted to be on board to support this important message."
John graduated from NIDA in 1973. In 1974 he played the title role of McCarthy in the Feature film "The Great McCarthy" closely followed by Picnic at Hanging Rock for which he was nominated best supporting actor. John hasn't stopped. He appeared in countless TV dramas, Including the role in of Ned Kelly in "The Last Outlaw" for which he won Best Actor in 1981. He's appeared in over 40 films including The Odd Angry Shot, We of the Never Never, Australia, Quentin Tarantino's Django Unchained and of course, the Iconic, Wolf Creek. A franchise that has included two movies and two 6 part TV series for Stan.
Scott McGregor
Scott McGregor popular for his 30 years in the business and his roles in Better Homes and Gardens and as host of the hugely popular Room For Improvement said, "Many years of renovations on houses great and small has made me very aware of how toxic they can be and asbestos is on top of the list!"
"Too many Australian's are suffering and dying young through the simple act of handling asbestos around the home. It's time to get smart with DIY so when it comes to asbestos it's a definite case of D-DIY, that is, Don't do it yourself"
Share this information on: