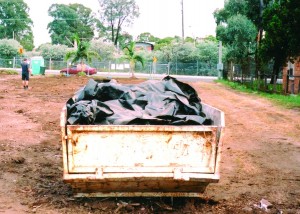 As a general guide the cost of lawful disposal by licenced asbestos removalists will be included in overall costs. However, if you are planning on removing and disposing of asbestos-containing materials yourself, there are strict regulations governing the disposal of asbestos including:
It is illegal to dump asbestos-containing materials in Australia – large fines and remediation costs can apply to those responsible.
Asbestos waste can only be disposed of at specific landfills located across Australia.
To arrange to dispose of asbestos, first contact your local council to ensure you are aware of council requirements and to locate the nearest lawful waste landfill site.
If your council is unable to assist, visit the Asbestos Safety & Eradication Agency's disposal database to locate your closest asbestos disposal facility. Some state regulators also provide this service.
Ensure asbestos waste has been wetted, wrapped in 200um thick plastic, and sealed with tape before it is transported to a landfill site that may lawfully receive the waste.
It must be clearly labelled as "asbestos waste".
It must be transported in a covered, leak-proof vehicle.
It is wise to keep copies of receipts from landfills where asbestos was taken as councils or the regulators may require you to produce these receipts as proof of proper disposal.
IMPORTANT: The management, removal and disposal of Naturally Occurring Asbestos (NOA) in rural or regional Australia is regulated by strict guidelines. Before working with or removing NOA, download our free Naturally Occurring Asbestos – Asbestos Management Plan Guide to ensure NOA is managed safely and in accordance with regulations.
Safely transporting asbestos
In some states and territories, waste transporters are required to report the movement of more than 100 kilograms of asbestos waste or more than 10 square metres of asbestos sheeting to their regulators. If you are involved with transporting, or arranging the transport of asbestos waste contact your regulator for more information.
For information relating to transporting Naturally Occurring Asbestos, please refer to our NOA Guide.
Share this information on: