About to Renovate and Not Sure If there is Asbestos in Your Home?
Asbestos was widely used in the manufacture of building materials and other products prior to being phased out by 1990 and banned in 2003.

If your home was built or renovated prior to 1987 it is '

highly likely

' that it contains products incorporating asbestos.
If your home was built or renovated between 1987 and 1990 it is '

likely

' that it may contain some asbestos-containing materials.

If your home was built or renovated

after 1990

it is

'unlikely'

that asbestos-containing materials will be present.

Building products were made from bonded asbestos cement including fibro sheeting (flat and corrugated), water, drainage and flue pipes, roofing shingles and guttering
Asbestos fibres were used in the manufacture of thousands of products including decorator materials such as carpet underlay, wall and floor tiles; adhesives including mastics, putty, sealants, plasters and paints; bituminous membranes for waterproofing rooftops and floors; and, b

ituminous electrical products including backing board

s in switchboards and electrical insulation

For information on the sorts of products that can be found in homes built or renovated prior to 1990, search our Asbestos Products Database

If you are not sure if asbestos is in your home or in need of replacement, you can have your home inspected for unsafe asbestos by a licenced removalist, licenced assessor or occupational hygienist
Has Asbestos Exposure Been Linked to DIY Renovating?
Asbestos exposure has been linked to DIY renovating! In the past Australians diagnosed with malignant mesothelioma has primarily been men exposed to asbestos through work-related exposure. Today there is a growing body of evidence that more people including women are being diagnosed through non-occupational exposure including during home renovations.
If asbestos is disturbed during renovations or in the demolition of homes containing asbestos, fibres can be released into the air and be inhaled. Inhaled fibres increase the risk of developing malignant mesothelioma or lung cancer.
A study (MJA in press) by Professor Anthony Johnson et al into 'The prevalence of self-reported asbestos exposure during home renovation in NSW residents' showed: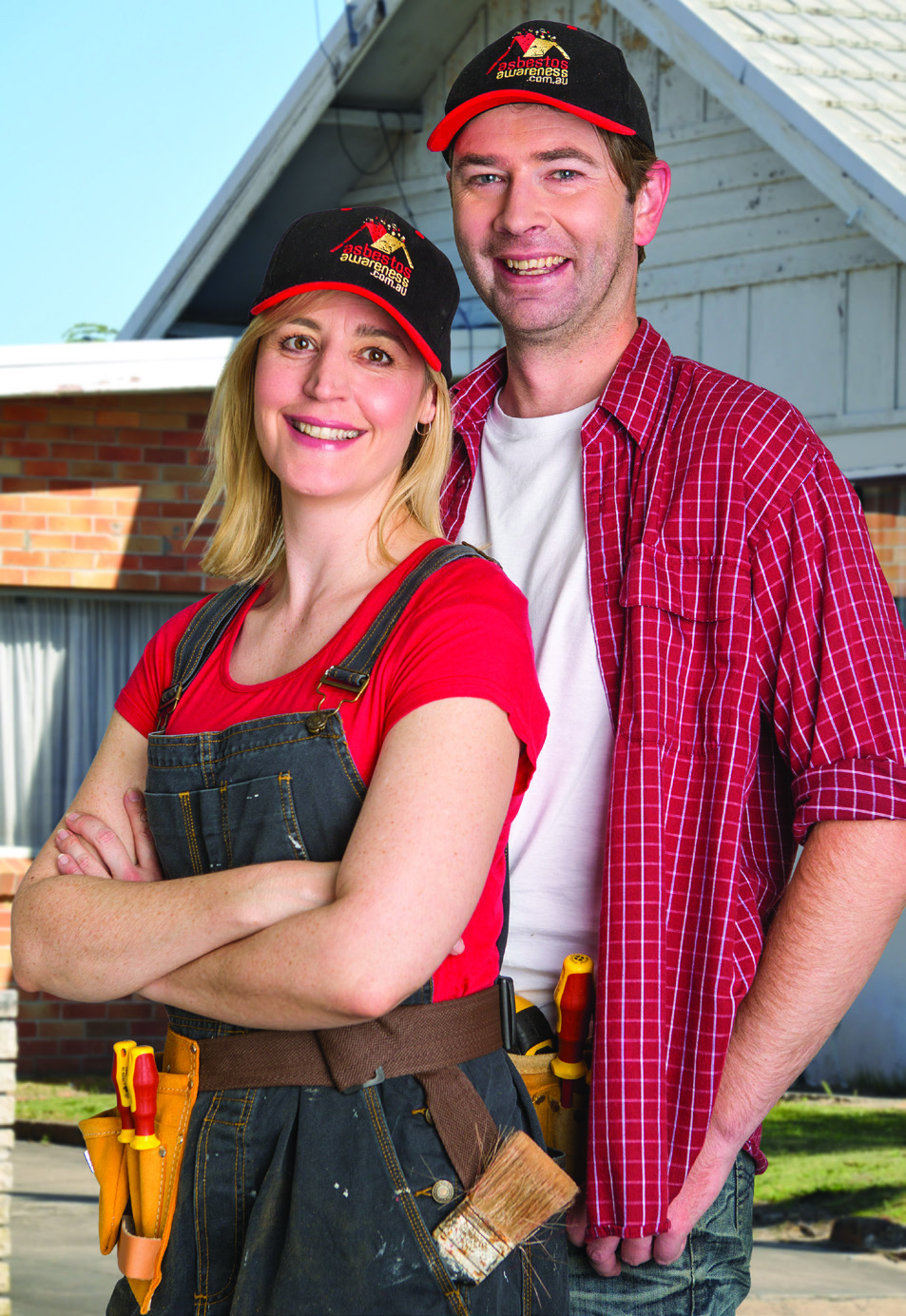 60.5% of do it yourself (DIY) renovators reported being exposed to asbestos during home renovations.
53% reported their partner and 40% reported their children were also exposed to asbestos during home DIY home renovations.
Non DIY renovators were less likely to be exposed or have their families exposed.
58% of DIY renovators cut AC Fibro Sheeting – this was the most common activity resulting in asbestos exposure.
37% of DIY renovators reported using a power tool to cut asbestos products.
Thus asbestos exposure is common during home renovations
What NOT to Do With Asbestos in Your Home
If you find asbestos in your home, Don't cut it! Don't drill it! Don't drop it! Don't sand it! Don't saw it! Don't scrape it! Don't scrub it! Don't dismantle it! Don't tip it! Don't waterblast it! Don't demolish it! And whatever you do… Don't dump it!
Never use tools on asbestos materials as they will make asbestos fibres airborne including:
Power tools such as electric drills, angle grinders, circular saws and electric sanders
Never use high pressure water blasters or compressed air
When is Asbestos in the Home NOT a Significant Health Risk?
Studies have shown that asbestos products, if in sound condition and left undisturbed, are not a significant health risk
If the asbestos fibres remain firmly bound in a solid cement sheet or structure, generally you do not need to remove the asbestos
If your home contains bonded asbestos products that are in good condition, leave them alone but remember to check them occasionally for any signs of wear and tear
Australian Mesothelioma Registry
In August 2020, The Australian Mesothelioma Registry published their Mesothelioma In Australia 2019 which reported 724 deaths and 659 Australian's diagnosed with mesothelioma.
Asbestos Exposure
Of the patients who completed the voluntary asbestos exposure questionnaire between 2010-2019, 12.2% classified asbestos exposure through occupational exposure alone, with 35.9% classifying non-occupational exposure and 51.9% selected both occupational and non-occupational exposure. Of these:
Undertaking home renovations accounted for the possible exposure of 43% of patients
Living in a house undergoing renovations accounted for the possible exposure of 39% of patients
Living in a house made of fibro built between 1947 and 1987 accounted for the possible exposure of 10% of patients
Living in the same home as someone with a job where they were exposed to asbestos and who came home dusty, accounted for the possible exposure of 14% of patients
National Asbestos Exposure Register (NAER)
The National Asbestos Exposure Register (NAER) was established by the Australian Government to record information for members of the community who may have been exposed to asbestos.
If you think you may have been exposed or for more information visit Asbestos Safety and Eradication Agency.
Asbestos Imports
Asbestos is still widely used in some countries. Despite being a prohibited import in Australia, goods containing asbestos are still being located at the Australian border. For more information visit the Federal Asbestos Safety and Eradication Agency website, The Australian Border Force website or download the Australian Border Force Fact Sheet on asbestos imports.
Share this information on: