Where Might Asbestos Be Found in Your Home?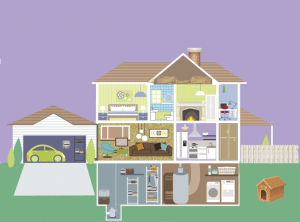 If your home was built or renovated before 1987, you may be surprised where asbestos products have been used in your home.
Products made from bonded asbestos cement that may have been used in your home include:
Fibro sheeting (flat and corrugated) in walls and ceilings
Water drainage and flue pipes
Roofing shingles and guttering
The backing of floor coverings
IMPORTANT: If fire, hail, or water blasting damages bonded asbestos, it may become friable asbestos material and must be managed and removed by a licenced friable asbestos removalist.
Typical Household Locations
Inside House

Outside House

Backing of vinyl sheet floor covering
Carpet underlay
Cement flooring
Compressed asbestos sheet
Flues to fireplaces
Insulation below wood heater
Internal and external ventilators
Internal angle mouldings
Internal walls & ceiling
Kitchen splashback
Loose fill insulation in roof cavity
"Tilux" marble finish wall panel
Vinyl floor tiles
Wall sheeting – internal

Backing for electrical meter boards
Dog kennel
Downpipes
Eaves and gables ends
External angle mouldings
Fence
Garage
Gutters
Insulation for hot water pipes and tank
Internal and external ventilators
Ridge capping
Sheds & external toilets
Wall sheeting – external
Important Asbestos Facts
Most people can't tell whether building materials contain asbestos just by looking at them!
Unless you take the required safety precautions and follow regulations, Don't cut it! Don't drill it! Don't drop it! Don't sand it! Don't saw it! Don't scrape it! Don't scrub it! Don't dismantle it! Don't tip it! Don't waterblast it! Don't demolish it! And whatever you do… Don't dump it!
If you do need to work with any material that may contain asbestos, always work so there is minimal dust or small particles released from the asbestos materials. Follow the instructions in Fact Sheet 2
Only scientific testing of a sample of material by an accredited National Association of Testing Authorities (NATA) asbestos testing laboratory can confirm the presence of asbestos. For a NATA Lab List call 1800 621 666 or refer to their website at www.nata.com.au. When searching for an asbestos testing facility use a capital A in Asbestos.
Asbestos materials that are in good condition are unlikely to release asbestos fibres if left undisturbed
If asbestos materials are in good condition, paint them and leave them alone
The use of asbestos in products has been banned since 2003
Asbestos — A guide for householders and the general public has been produced by The Department of Health to provide useful information to enable householders to sensibly and safely manage the risks arising from any occasional encounters with asbestos materials in and around their homes
For important information about working with asbestos read Safe Work Australia's 'Safe Removal of Asbestos 2nd Edition [NOHSC: 2002 (2005)]
Share this information on: