Blue Lamington Drive
A vital part of raising awareness of asbestos among communities is creating a forum for discussion. We're inviting all Australians to hold a Blue Lamington Drive during Asbestos Awareness Month (1-30 November). The Blue Lamington's bearing a colour similar to natural asbestos fibres are intended to raise awareness of the dangers of asbestos and to generate vital funds for the Asbestos Diseases Research Institute (ADRI) and support groups around Australia.
Anyone can hold a Blue Lamington Drive at home, at work or at school. It's fun and easy to do. By holding a Blue Lamington Drive Australians will help raise awareness among colleagues, family, friends, neighbours, schools, professionals and the wider community of the dangers of asbestos when renovating or maintaining homes. And, in collecting donations, will raise vital funds to support essential research into asbestos-related diseases including mesothelioma, an incurable cancer that can develop as a direct result of exposure to asbestos fibres.
For more information or to register visit www.bluelamington.com
Betty – The ADRI House
Throughout November, Betty – The ADRI House will be visiting communities around Queensland educating people about where asbestos may be found in and around homes built or renovated before 1987. You'll be surprised where it can be found! For information about Betty click here.
During the 2017 Asbestos Awareness Month Campaign, Betty and her crew will be touring Tasmania for the first time and will be visiting different NSW and Victorian Communities enroute.
Ambassadors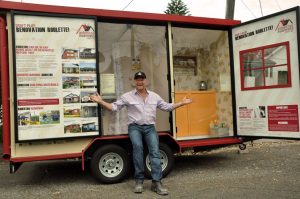 A number of celebrity ambassadors have committed their support to the campaign including; Scott Cam, Barry Du Bois, Scott McGregor and 'Australia's Queen of Renovating' Cherie Barber.
Council Participation
In 2016, of the 563 councils across Australia, 100% officially registered their participation in Asbestos Awareness Month, the highest number of council participants since the campaign launched in 2012. In 2017, we hope ALL Councils throughout Australia will continue their participation in this important initiative.
For information about how your council can participate click here.
Community Service Announcements
In 2012 ADRI and the AEC developed a 30 second Community Service Announcement for television and radio. To view the ad click here or to download the radio or television ad click here. We also have a variety of web banners and print ads available for filler space.
Share this information on: