Community & Media Engagement
National Asbestos Awareness Month provides a number of resources for businesses, organisations, individuals and governments to participate in the campaign to help increase awareness of the dangers of asbestos in a wide variety of communities.
Register now to access a wide range of FREE communication resources.
Blue Lamington Drive

Every year during National Asbestos Awareness Month, the Blue Lamington Drive has played a significant role in raising awareness of the dangers of asbestos through creating forums for community discussion and fundraising to support the Asbestos Awareness campaign and to ensure the website is funded to continue providing essential, free life-saving information to the Australian people.
To host a Blue Lamington Drive during National Asbestos Awareness Month you can register or make a donation through the Blue Lamington Drive MyCause Page.
Every dollar raised will help educate Australians about the dangers of asbestos and provide free resources to the community.

Betty – The Asbestos Awareness & Education House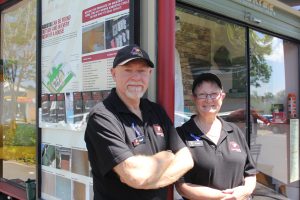 Since Betty was launched at Circular Quay in Sydney in 2012, every November, Betty the Asbestos Awareness & Education House has toured communities throughout NSW and Australia educating people about where asbestos might be found in and around homes built or renovated prior to 1990, and how they can manage asbestos safely.
After exhibiting at a number of community events, visiting hundreds of communities and travelling more than 65,000 kilometres throughout NSW, VIC, QLD, SA, NT, ACT and Tasmania, in 2018, following the transfer of oversight of the National Asbestos Awareness Month Campaign from SafeWork NSW to the NSW EPA, funding for Betty's community education tours and exhibitions has been minimal.
We are currently seeking funding to help further Betty's vital work in the prevention of asbestos-related diseases.
For information about Betty or to find out how you can help, click here.
Follow Betty's Adventures
Since 2012, Betty has taken her potentially life-saving message to hundreds of communities in all states and territories except WA. Due to a lack of funding and the current COVID pandemic, Betty's has been off the road but you can see the impact Betty has had on the communities she's visited here.
Ambassadors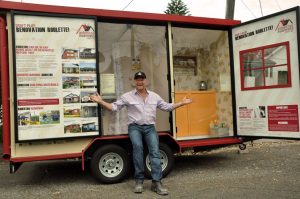 A number of celebrity ambassadors have committed their support to the campaign including; 'Australia's Queen of Renovating' Cherie Barber, Barry Du Bois, Scott McGregor and Scott Cam. Read about our ambassadors.
Council Participation
Over the years Council participation in the National Asbestos Awareness Month campaign achieved a 100% participation rate with 100% of Councils across Australia officially registering their participation in the campaign achieving a record in Australia for the highest number of council participants in any community health awareness campaign. We are most grateful to all Councils who've utilised our resources to educate your communities on safe asbestos management.
For information about how your council can participate click here.
Community Service Announcements
To increase awareness of asbestos you can download our FREE 30 second Community Service Announcement for television and radio which you can share across social media channels. To view the ad click here or to download the radio or television ad click here.
We also have a variety of web banners for online use and print ads available for filler space or company newsletters.
Share this information on: