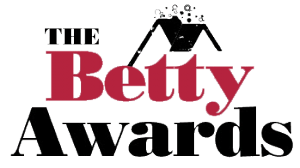 To mark Global Asbestos Awareness Week (1-7 April), the Asbestos Education Committee (AEC) in partnership with the Asbestos Diseases Research Institute (ADRI) are delighted to announce the 28 award winners in the national 'Betty Awards' for their significant contribution to community education during national Asbestos Awareness Month. Organisations who actively participated and registered in the Asbestos Awareness Month Campaign were eligible to enter The Bettys.
Key to the campaign's success is the invaluable contribution of stakeholders and community leaders who are able to reach out directly to their communities to help them understand asbestos products and educate them on safe practices. Of the 563 councils nationally, 343 (61%) registered their participation, an increase of 181% – the highest number of council participants since the campaign launched in 2012. In NSW, 131 (86%) of councils participated – a 98% increase on 2013, and with the exception of WA (59 Councils – 42%) over 50% of councils in all states and territories joined with the AEC to educate their communities.
Thank you for all the incredible support from all the organisations who participated.
Best Asbestos Awareness Month Campaigner: Government Department or Organisation
Winner: The Western Sydney Regional Organisation of Councils
Highly Commended: Local Government New South Wales
Most Innovative Asbestos Awareness Month Council Campaigner
Winner: Mornington Shire Council (QLD)
Highly Commended: Wollongong City Council (NSW)
Most Active Asbestos Awareness Month Council Campaigner Awards
Metropolitan New South Wales
Winner: Campbelltown City Council
Highly Commended: Pittwater Council & Camden Council
Commended: Holroyd City Council
Metropolitan Victoria
Winner: Nillumbik Shire Council
Regional New South Wales
Winner: Wollongong City Council
Highly Commended: Liverpool Plains Shire Council, Mid-Western Regional Council & Queanbeyan City Council
Commended: Bega Valley Shire Council & Cooma-Monaro Shire Council
Regional Queensland
Winner: Mornington Shire Council
Highly Commended: Cook Shire Council
Regional South Australia
Winner: Wakefield Regional Council
Highly Commended: District Council of the Copper Coast
Honourable Mentions:
New South Wales: Parramatta City Council, Wagga Wagga City Council & Albury City Council
Queensland: Maranoa Regional Council
Tasmania: Glamorgan Spring Bay Council
Victoria: East Gippsland Shire Council, Knox City Council, Maroondah City Council
Western Australia: City of South Perth, City of Greater Geraldton, City of Kwinana
Share this information on: